How to Get A-Head of Your Hair Loss
Ways to prevent and restore hair loss without surgery
When it comes to fuller looking hair, in most cases, women certainly have it easier that men. They can add on hair extensions, style their hair to look thicker and even wear a wig without anyone noticing.
But for men, hair loss can be an embarrassing problem that has been hard to evade and it affects over 35 million men each year.
Up until now, the only options to minimize or reverse the appearance of hair loss has been messy prescription drugs with unwanted side effects or hair transplant surgery. While both of these options can work, they can be risky and not provide the natural looking and lasting results most men want.
Luckily, thanks to innovations in science and technology, there are new products and methods that can not only permanently reverse hair loss in men, but also provide natural looking results.
Here are some of my favorite go to solutions that are easily accessible and helpful.
NeoGraft is a non surgical, minimally invasive hair transplant procedure that uses suction instead of scalpels and stitches. Available at your local plastic surgeon or Dermatologist's office, the practitioner, uses suction to gently (and painlessly) extract hair follicles from the back of the head or anywhere on the body. The follicles are then harvested by the Neograft machine in a matter of nano-seconds. The practioner then places them where hair is needed. There is little to no downtime, no embarrassing scars, stitches, or staples. Hair regrowth in the implanted areas occurs in as little as two weeks. The best part of it all is that the regrowth is so natural looking that no one will know that you have had a hair tranplant.
Hair Care for Hair Growth!
THICK HEAD helps to fight DHT (the leading cause of hair loss) with specially developed ingredients also proven to help regrow your hair. THICK HEAD is manufactured in an FDA Approved facility and contains no harmful drugs.
Thick Head products are formulated to reduce DHT also known as Dihydrotestosterone on the scalp. DHT, is a hormone that causes hair follicles to shrink, which can result in the slowing or stopping of hair growth, and is the principle cause of Male Pattern Baldness.
Thick Head products are formulated with ingredients that can help reduce the amount of DHT on the scalp, clearing the way for healthier hair.
Thick Head helps to promote hair regrowth naturally, and unlike other "hair regrowth" products, according to the company, "the only side effect you will see is thick and healthy hair".

THICK HEAD provides all the tools a man needs to regrow his hair and restore his confidence.
Products include:
CLEAR HEAD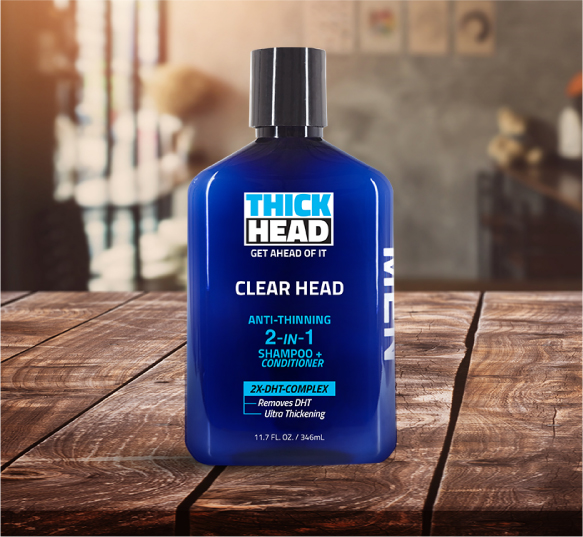 CLEAR HEAD Anti-Thinning 2-In-1 Shampoo + Conditioner.
• Cleans and conditions all in one step
• Leaves hair looking full and healthy
• Boosts hair thickness



REGROWTH TREATMENT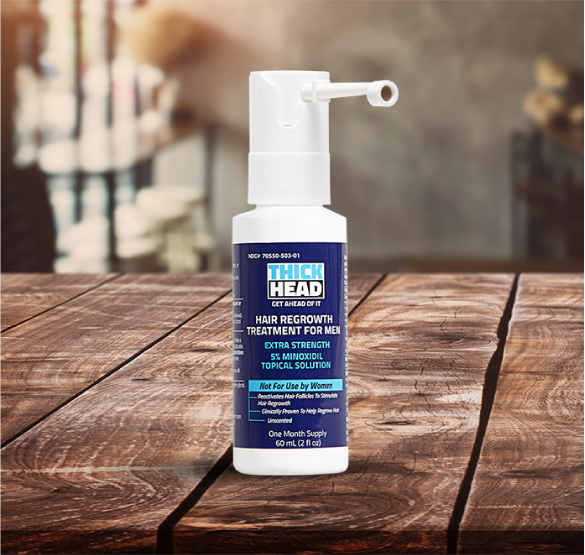 An FDA-approved topical treatment, clinically-proven to help regrow hair in men.

THICK HEAD Hair Regrowth Treatment for Men features an exclusive and patented sprayer that allows for the targeted delivery of the treatment to the affected areas, with no dripping or mess.

• Stimulates hair regrowth
• Helps maintain fuller, thicker hair
• Helps restore hair follicles
HEAD RUSH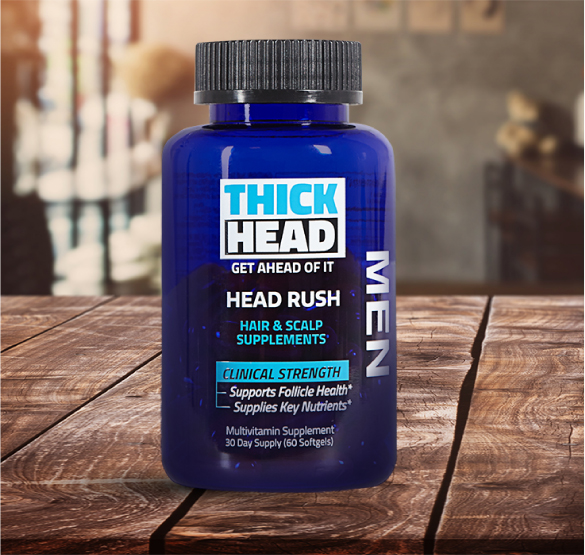 A daily dietary supplement specifically developed to target the multi-faceted causes of hair loss. HEAD RUSH is formulated to nourish hair from within and to promote the health of existing hair.

• Supports follicle health*
• Contains nutrients that help protect hair*
• Promotes hair strength and scalp health*


HEADS UP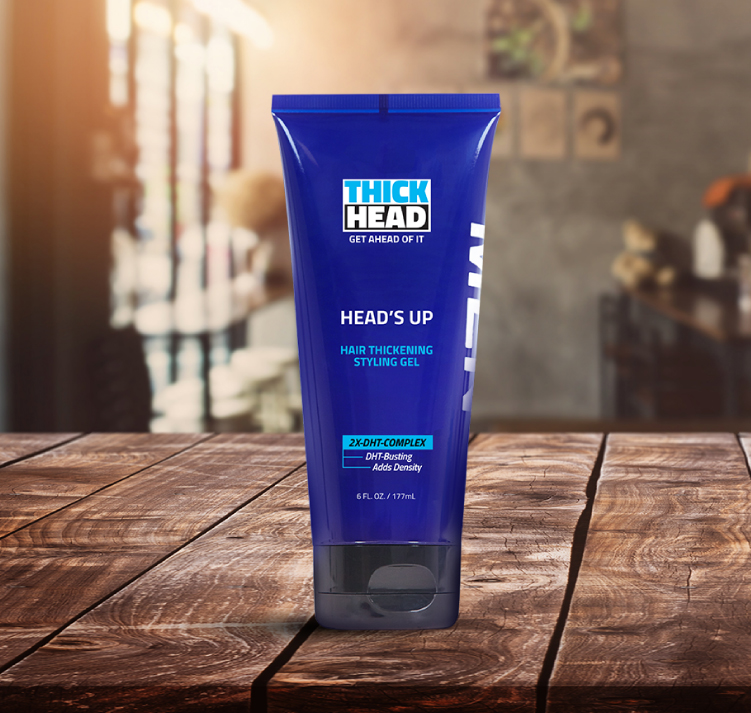 HEADS UP Hair Thickening Styling Gel is enriched with the 2X-DHT-Complex and DHT-fighting ingredients. It adds a firm, clean hold for increased volume and helps hair appear fuller.

• Boosts hair volume and thickness
• Firm hold, flake-free and tack-free gel
• Leaves hair looking full and healthy


The Flex Brush Detangling System is the brainchild of two of the most innovative minds in beauty- Angelo David, owner of an elite salon in New York City, and Jacob Guttman, founder and CEO of Creative Pro Hair Tools.
The Flex Brush is an innovative brush that actually bends with your hair to prevent against pulling, knotting, and hair loss.
Its flexibility allows the Flex Brush to perfectly meet the contours of your scalp – resulting in a soothing massage, which increases the supply of blood to your hair follicles.

The circulation provides oxygen and nutrients that are essential to growing strong, shiny hair.

The stimulation can also help prevent psoriasis, dandruff, hair loss, and other scalp issues.
HAIR BOOSTING EGG WHITE OMELET WITH SPINACH & PEPPERS
We are what we eat. By eating foods that contain the necessary vitamins and minerals you can eat your way to fuller looking hair.
For breakfast, brunch or dinner, this Hair Boosting Omelet contains ingredients that help to prevent against free radicals which can cause hair loss. It also provides some of the the necessary nutrients that help to promote circulation which in turn can help promote healthier looking hair.
Ingredients:
Eggs:
Eggs are a great source of protein and biotin, two nutrients that may promote hair growth.
Eating adequate protein is important for hair growth because hair follicles are made of mostly protein. A lack of protein in the diet has been shown to promote hair loss.
Biotin is essential for the production of a hair protein called keratin, which is why biotin supplements are often marketed for hair growth. Research has also shown that consuming more biotin can help improve hair growth in people with a biotin deficiency.
Spinach:
Spinach is contains beneficial vitamins and minerals like Vitamin A and Iron both which research shows may help promote hair growth.
Vitamin A helps the body to produce sebum, an oily substance that w helps to moisturize the scalp.
Spinach also contains iron which helps oxygenate your body aiding in hair growth and repair.
Peppers
All variety of peppers contain Vitamin C which has been shown to aid in hair growth by stimulating collagen production.
Collagen helps to strengthen the hair follicles as well as protect body and scalp from the formation of free radicals which can lead to hair loss.
Directions:
5 egg whites (we prefer Sauder's)
1 cup spinach
1/2 cup peppers diced
1 TBSP Thrive Algae or Thrive Spray Algae Oil
Coat pan with Thrive
Add in egg whites
Fold in Peppers
Fold in Spinach
Cook on medium to high heat for 2-3 minutes each side flipping as necessary.
Serve and enjoy.
PS: You can sub out frozen veggies for fresh.